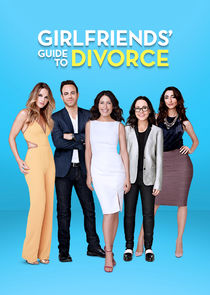 Premiered: 2014-12-02
Avg Rating: 7.1/10
Airs: Thursday at 22:00
Description:
Girlfriends' Guide to Divorce follows Abby McCarthy, a self-help book author and guru of all things family, who shocks the world when she reveals that her seemingly perfect life has all been a lie. After publicly admitting that she has separated from her husband, Jake, America's once-favorite girlfriend finds her career and marriage in a free fall. As she starts to navigate life as a single woman in her 40s, Abby turns to her new divorced friends, rather than her married ones, for advice. Her friend Lyla is a legendary no-nonsense entertainment lawyer who is in a constant 'War of the Roses' battle with her ex-husband, and Phoebe is a former model and budding entrepreneur who has a very unique relationship with her ex. Meanwhile, a rival attorney at Lyla's firm, Delia, is hired as Abby's divorce attorney.Inspired by the "Girlfriends' Guide" book series by Vicki Iovine.