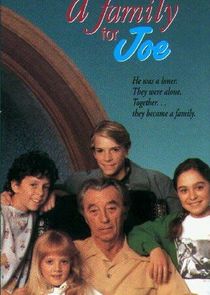 Premiered: 1990-03-24
Avg Rating: /10
Airs: Sunday at 19:30
Description:
Who says you can't pick your relatives? Meet four kids who did... Veteran actor Robert Mitchum stars as the man the four Bankston kids call "Grandpa Joe." But that wasn't always his name. And he didn't know the Bankston children at all -until they found him. You see, Chris, Mary, Nick and little Holly Bankston were recently orphaned, and with no adult to care for them, the courts threatened to split them up and place them in foster homes. Desperate situations call for desperate measures, so the four shrewd kids selected a crusty old homeless person -- Joe -- and turned him into their long-lost "grandfather." In return for food, shelter and clothing, "Grandpa Joe" would agree to keep up the charade and everyone would be happy -- kids, court and Grandpa. But what starts out as a good "deal" quickly turns into more than they all bargained for. The children soon realize they need more strict guidance than they had imaged. Joe discovers that, in addition to adjusting to life in a comfortable house instead of a cardboard box, that for the first time in his life, being a "family man" is truly something worthwhile.