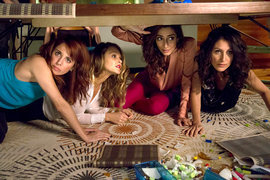 Girlfriends' Guide to Divorce - Season 1, Episode 10
Technical
Episode Title: Rule #3: Don't Stand in the Doorway
Episode Run Time: 60
Episode Air Date: 2015-02-03 22:00
Episode Summary: An earthquake hits Los Angeles just as Abby's Huffington Post piece "Why Aren't You Divorced Yet?" hits the internet. The moms at school are furious with Abby as the article threatens to expose one of their husbands as a cheater. Meanwhile, Abby's daughter Lilly (Conner Dwelly) is put on the "slut list." Phoebe helps Marco (Brandon Jay McLaren) with his urban farming business. Looking into Jo's finances, Delia discovers a shocking secret.