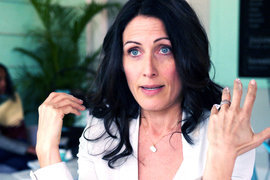 Girlfriends' Guide to Divorce - Season 1, Episode 1
Technical
Episode Title: Rule #23: Never Lie to the Kids
Episode Run Time: 60
Episode Air Date: 2014-12-02 22:00
Episode Summary: Abby McCarthy , famous author of the best-selling Girlfriends' Guide. . . mommy advice book series, has been living a lie. She's been hiding from her fans, friends, and family that she's separated from her husband. Now that her husband is actively dating, she begins to take the advice of her divorced friends which leads to some unexpected and life-changing experiences.